Science Geeks Unite!
The future is ours!
Welcome to the world of the
Science Geeks! A website packed
with geek-tastic science news,
interactive revision resources and
free educational video fun delivered in our own
uniquely deranged style.
Our very existence is under threat from climate
change. We want to provide free support for the
engineers, climatoligists, biologists, physicists and
chemists of the future! Only they can save us! The
alternative?
Check out our GEEK BLOG! Life on Mars? No Thank
you!
"Change the polarity of the neutron
flow"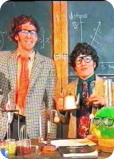 © Science Geeks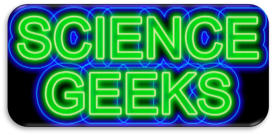 Featured Video
What is the difference between gravity and
mass? Who cares? You should!
Join our Science Geek
astronauts on their one way
trip into space. Nothing
upsets a physicist more than
people mixing up mass and
weight. Learn the difference!
Your life could depend on it if you
are planning on leaving the Earth at any time in
the future. Not all of them will survive…… let this
space opera begin! Some people (my mum) are
saying it is the new "Star Wars"!